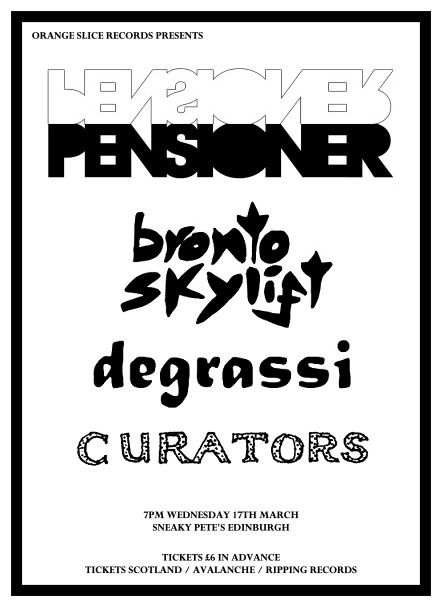 Orange Slice Records
presents
Pensioner
live at
Sneaky Pete's
on
17 March 2010
in support of their
debut self-titled EP
, out now. Their mathy rock sounds tracks the epic voyage of four musical journeyman individuals and their rock odyssey... or at least that's what their PR would have us believe. Support comes from the dazzling
Bronto Skylift
and completing the bill are the criss-crossing guitars of Edinburgh veterans
Degrassi
and
Curators
.
A week later,
Sneaky Pete's
will be host to Edinburgh's own
Night
Noise Team
. The 'France pop meets 80s rock' band will perform on
27 March 2010
, promoting their new single, '
Menolick
' (pictured right), which has already been talked about by Lamacq on 6Music, Radio 1 and other stations and podcasters.